Green Labyrinth are a training provider specialising in skills and vocational training programs across Swindon & Wiltshire, Gloucestershire and the surrounding areas.
Over recent years Green Labyrinth have helped young people gain the skills and experience needed to progress into Apprenticeships and employment!
Green Labyrinth and EngageCRM UK have invested into the development and process mapping to ensure this CRM / MIS can work for Education & Training Providers and be customised to any specific organisation.

Enquiries can come into your CRM in many different ways
Set up customised workflows for automated email alerts and Tasks created for users to follow up!
Telephone call into office
Social Media importer (LinkedIn, Facebook and Twitter)
Spreadsheet bulk importer
Mobile Business Card Reader
Convert Leads into Employers with a click of a button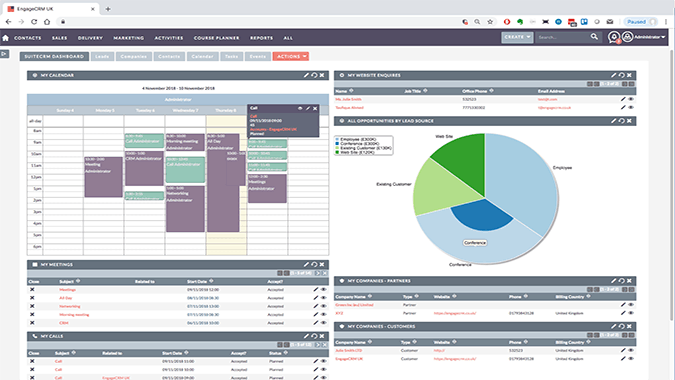 Send your learners an electronic application form, creating an Enrolment inside your system
Using the information entered by the learner, click 'Generate Document' have the option to choose your paperwork template to generate a word document!
Go further with Docusign, using the interactive templates to email to the learner for digital signature.
Online enrolment form to CRM
Generate Customised Paperwork & Print
Docusign - Digital Signature
Windows, MAC, iOS and Android
'Paperwork sign ups took over 90 minuets with travel costs,
Using EngageCRM UK & DocuSign we now average under 30 minuets and sales can complete sign up without leaving the office!'
Bryan Davis - Managing Director - Green Labyrinth
Green Labyrinth's Docusign statistics from April 2019
Users can create a Learner record in one click from an online enrolment!
You can see all the personal information and all linked Enrolments, quickly see the progress a learner has made (Level 1 > Level 2)
We can include an ID number generator - Auto generate a unique ID number for your learners
Store Personal Information and Photo
Upload and Store Documents
Email Alerts and Reminders
Full exam booking process including public web form for the initial request
The process allows your administration team to record every exam that takes place in your organisation and record the success
This keeps your exams in one place, links to a Learner, Enrolment and Tutor / Assessor!
Exam reporting has allowed Green Labyrinth to review success rates based on month, year, qualification + level, learner, employer, assessor & IQA!
Exam Booking Public Webform
Custom Qualification & Exam Types
Email Alerts and Reminders
Success Rate Reports (Qualification / Tutor or Assessor)
Every member of staff can have a user login for your system..at no extra cost!
Limit access and permissions for 'view only' user groups etc
Delivery staff can see caseload reports, success rates, calendar, CPD and more!
Email Alerts and Reminders
Calendar, Activities and Expenses!
Create a course inside the system, linked to a teacher and enrolment
The course record allows a teacher to create 'Course Tasks' inside
Creating a list of course tasks gives a learner their 'Activities' they need to complete for that course with due dates and notes etc.
The teacher can update each Task progress throughout the duration
For repetitive courses create Course Templates with set duration for each Task length!
Organise your Courses and Lessons
Create Events with Email Invites and Reminders
Financial Reports (Income vs Outcome)
EngageCRM UK has made our Exam Booking process more efficient and paper free.
The system sends update and reminder emails to the Student, Teacher and Invigilator!
Exams Officer, Centre & Quality Manager
Green Labyrinth started with 3 members of staff and with the flexibility of the system has allowed us to grow up and down throughout the life with EngageCRM UK.
We have customised the CRM & Cloud to work for us and our partners for a training / education provider and are still adding to it!
CRM
Customer Relationship Manager

An online system & database that helps organisations of all sizes collect, manage and group their client data.
CRM can help improve all areas of an organisation from marketing & sales to contracts & delivery.
Keeping all of your interactions with your client in one place
Functionally very similar to the widely used SalesForce with a difference:
100% Control of the software
Customise your system to meet your needs, add fields and change layouts to ensure you capture the information important to your organisation!

Cloud allows you to have personal storage online, that you can access securely anywhere!
Functionally very similar to the widely used Dropbox with a difference:
100% Control of the software
Upload & organise your Documents, Files, Images, Videos and much more!

For more information on how we can meet the needs of your organisation get in touch now!